$

269.00
"BBB" BOLO BIG BORE (Complete Kit!) for Honda Ruckus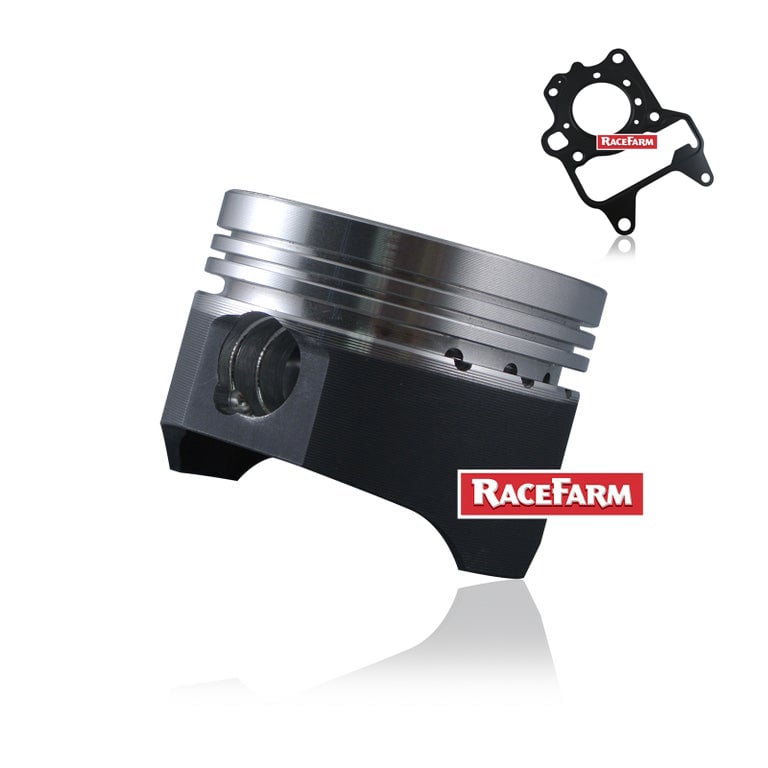 The Racefarm "BBB" (Bolo Big Bore) is back! The BBB kit includes 58.1cc piston (ring set, wrist pin and locks included) and Cometic Head Gasket!
With the help of Wiseco, a industry leading manufacturer of high performance Powersports products such as forged pistons, clutch baskets, gasket kits, connecting rods, valves, crankshafts, and camshafts, Race Farm was able to create a Honda Ruckus big bore piston unique from previous offerings. The big bore predecessor featured a flat top design, however the RF "BBB" features a .015" dish design, 41mm bore and comes standard with WPC Metal Treatment helping with the reduction of friction and improving wear resistance.
Cylinder Head Preparation Specifications
| | | | | |
| --- | --- | --- | --- | --- |
| Part # | BBB Bore | Oversize | Stock Bore | Included Ring Set# |
| RF-BBB-01 | 41mm (1.6141") | 3.2mm (0.13") | 37.8mm (1.48") | 4100XZ |
*Recommended clearance is .0018"
Tech Tip: This particular dish design gives the motor a slightly lower compression (without sacrificing power) allowing the "hardcore" the ability to maximize performance by taking advantage of the squish area and flame. You will have to do your own homework on this one if you want to harness the maximum performance from the BBB. Otherwise your standard cylinder job will do and its "plug and play" for the skilled enthusiast.
Note: This BBB is not for the elementary rider/builder it requires additional parts/labor including boring of the cylinder, replacement of your head gasket, etc. This part is intended for off-road use only and we are not responsible for any damages or injuries that may occur to you and/or your engine. This is a high performance part please use your discretion before buying, if you do not know much about engines and/or possible positive/negative results of installing parts of this magnitude please do not purchase.
If you need boring/plating done we recommend using the pros at U.S. Chrome. Wiseco and JE Pistons independently endorse them as well.
U.S. Chrome Corp. of Wisconsin
650 Oak Park Avenue
Fond du Lac, WI 54935
US Chrome